Date Posted: July 30, 2009
(The Valley, Anguilla) The Department of Youth and Culture in the Ministry of Social Development has just implemented a new and exciting initiative dubbed Youth ESCAPE. Youth E.S.C.A.P.E (Educational Summer Creative Arts Production and Entertainment) provides a getaway for youth during the summer vacation and provides participants with the opportunity to work with skilled artistes to develop their creative skills in the various art forms. This year's programme which is supported by a generous grant from the Anguilla Community Foundation features four components: theatre, moko jumbie, graphic design, and the culinary arts.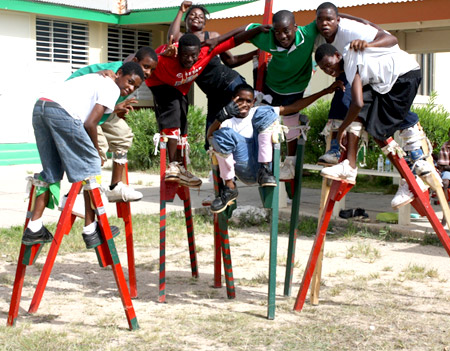 Felix Fleming of Sunshine Theatre, one of Anguilla's oldest theatre companies worked with participants to develop their skills in acting, speech, dance, sound technology and set design from 13 – 24 July. The participants had a vigourous two weeks of theatre and dance and were exposed to fundamentals of acting, playwriting and performance as well as Afro-Caribbean Dance techniques and their origins. They worked with an array of dance artistes, including Dance Diva Ms. Clara Reyes, creator of the Imbali Dance Company in St. Maarten, Mr. Rudolph Davis, an Anguillian dancer living in St. Maarten, and Ms. Nicole Chantal de Weever, a native of St. Maarten and professional choreographer and dancer who will be debuting this year on Broadway's new musical "Filler". Parents and well wishers were entertained by the participants who produced three skits and a dance routine for public presentation in their closing act on Friday, 24 July.

Theatre Group Photo

From July 20th – 25th participants were given the opportunity to learn from skilled Moko Jumbie practitioners Mr. Stanley Carty of Anguilla and Mr. Charlie Turnbull, leader of the BVI Elite Sky Dancers of Tortola. In addition to the existing moko jumbie dancers some twelve new dancers developed their skills in moko jumbie dancing. Mr. Turnbull encouraged participants to carry on the legacy left by their forefathers and to leave a legacy of their own for their children to follow. He advised them to 'dance with attitude' and always strive to leave an impact when entertaining. Participants were exposed to the origin of Moko Jumbie Dancing in an enlightening presentation by Ijahnya Christian of Triple Crown Culture Yard, while their appreciation of the history, tradition and legacy of moko jumbie dancing in Anguilla was enhanced when Elders, Albert Carty and Ivy Frett, children of the popular moko jumbie dancer Jimmy Carty of North Side treated them to an exciting rap session and live entertainment. The general public was treated to a live production last Friday when the participants showcased their newly developed skills on the block by KEN"S BBQ. Skills learnt will be further demonstrated during the carnival celebrations.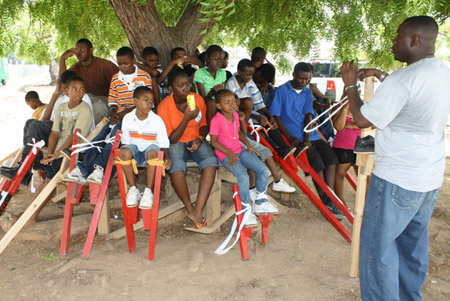 Andrew Turnbull Giving the Young Jumbies Some Pointers
Youth ESCAPE continues after the carnival celebrations when the Anguilla Hotel and Tourism Association and the Anguilla National Creative Arts Association will partner to deliver an exciting immersion experience in the culinary arts from 17 – 21 August. Participants will be mentored by some of Anguilla's Top Chefs and Gold Medal Winning Culinary Team. The experience will include onsite culinary demonstrations and hands on practical cooking and wide array of exciting activities. Participants will also be introduced to the Anguillian culture and food by sampling and cooking some indigenous dishes of Anguilla.
From 24th -28th August, Rosell Media and the Anguilla National Trust will partner to deliver a workshop in graphic design. Participants will develop their skills in Adobe Creative suite, which include "In Design" and "Photoshop" and create a wide array of artistic and promotional products, culminating in a public juried exhibition of the participants' work.

The Department would like to take this opportunity to thank everyone for their generous support and to solicit further support for the upcoming programmes. For additional information please contact Ms. Linda Lake or Ms. Mervil Nisbett at the Department of Youth and Culture at 497-0969 or 498-3792 and or email us at Youth.Escape@hotmail.com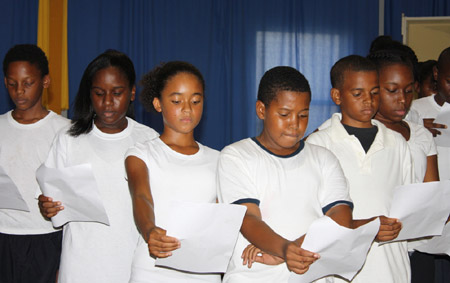 Participants in Theatre Workshop Performing