Date Posted: August 04, 2008.
A Photo Display will be posted on the website in the not too distant future.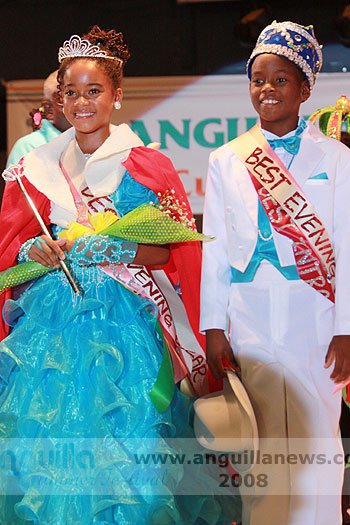 Josee Harrigan and Encosee Richardson from the Island Harbour Primary School - Prince & Princess Winners 2008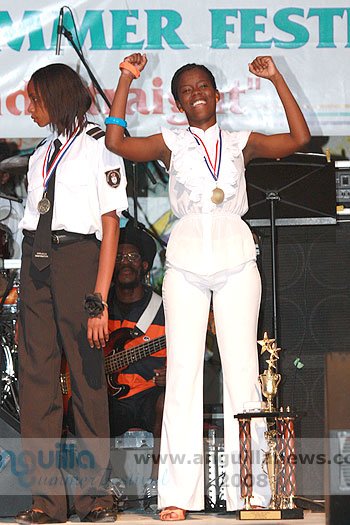 Singing She-She - Ms. Shereena Richardson, Jr. Calypso Monarch 2008 and first runner up in the Female Calypso Monarch Competition 2008.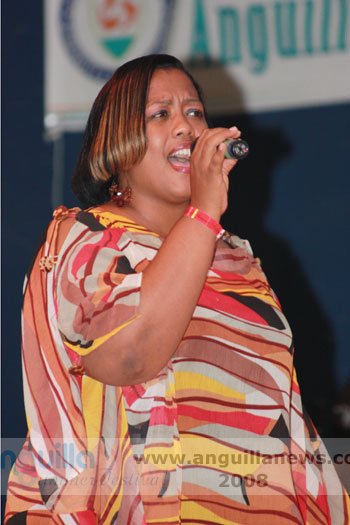 Queen B - Rebecca Webster, 2008 Female Calypso Monarch.

It took nearly 7 hours, with only short early interruptions due to rain, but those who made it out on Sunday evening were treated to a beautiful combination of a Prince & Princess show, a Jr. Calypso Show and a Female Calypso Monarch Competition at the Landsome Bowl Cultural Center. The attendance was very good and the entertainment was worth every penny of the attendance fee. Organisers must be commended for the fabulous job done resulting in an excellent contribution to the 2008 Anguilla Summer Festival.
The young participants in the Prince and Princess show, represented the six primary schools; namely, Island Harbour Primary, Morris Vanterpool Primary, Stoney Ground Primary, Valley Primary, Road Primary and Alwyn Allison Primary. All the contestants appeared to be well coached and prepped for their appearances - making for a very enjoyable pageant of high caliber. At the end of the night, the winning couple were Josee Harrigan and Encosee Richardson from the Island Harbour Primary School. Curdisia Samuel and Cristain Rogers of the Alwyn Allison Primary school were first runner up .
The Jr. Calypso and the Female Calypso Monarch competitions which followed, unveiled some very powerful talent with memorable performances from several of the contestants. Defending monarch, Singing Shea-Shea was re-crowned after a very powerful rendition and singing Ke~ Ke was first runner up among a slate of tough competitors.
In a highly competitive field of female performers, Queen B once again was outstanding and captured the Female title. Singing She-She was first runner up and Calypso Ro, 2nd runner up. Without doubt, the top three are capable to competing in and winning the Senior Calypso competition.